Music is all about finding your target market. A musician tediously creates different configurations of sounds and puts them together to make music. That music is then promoted, distributed, and sold. But to be an economically successful musician, one must have a devoted target market and a healthy-sized target audience.
A great tool to get a very general sense of how to begin the search for a target market is in Mandy Porta's Inc. article on the topic. One of the things she emphasizes is the need to choose specific demographics and psychographics for your target.
Childish Gambino's early work included the songs "Be Alone" and "Freaks and Geeks" in his 2011 EP. This is notable because "Freaks and Geeks" directly addresses his market. He explicitly states that the people listening to him are different– outcasts of some sort.
In the song, which is littered with vulgarities too explicit for this blog, he states, "My clique should be cancelled: Freaks and Geeks." This is a very specific demographic for the listeners of his music.
It is also worthy to note the psychographic attitude described in his song "Be Alone." He raps, "Always felt misunderstood… I don't want to be alone." This mood and attitude resonates throughout his early work, and he successfully finds a market in catering to these feelings.
Another point in Porta's article is to repeatedly analyze your product or service. This includes finding your target market and changing with that market. An example of this in Childish Gambino's musical career is in his latest album "Awaken, My Love!" in 2016.
As music and markets are forever volatile– Gambino recognized this. He took many creative liberties in his new album with a more mature, jazzy, and funky sound. This was wildly successful as it catered to his old market and grew into another one.
While Gambino has been changing significantly musically throughout his diverse career as a rapper, he has also changed in the way he makes money doing this while identifying and diversifying his target market.
First, he started going on tour. Concert tickets cost money, a lot of money. In Ricardo Bilton's article on consumer marketing he states "Millennials are used to an à la carte world and are much more willing to pay for stuff."
This was a smart move for Gambino as he first started touring after his album "Camp" came out in 2011. He knew his market was primarily millenials and he knew they would show up and pay for it.
In fact, I tried to get tickets to his music festival in California after his album came out, but was unable to due to them selling out so fast.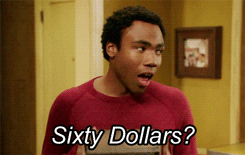 Another way Gambino has changed the way he makes money through his target market  is through changing the way he distributes music. At one point, he only sold his music on Apple Music. But he has since, even recently, transitioned to allowing his music on Spotify.
This subscription-based service is becoming more normal in music — and in life for Millennials. Yet as we learn in this recent New York Times article, "few entrepreneurs have jumped on the subscription bandwagon for local news." So focusing on audiences who are comfortable with paying small amounts monthly for their news might be a way to proceed for publishers.
It paid off for Gambino. Released on Jan. 31, 2018,"Freaks and Geeks" has received an impressive 10 million plays on Spotify.
To go back to Bilton's point, his market is willing to pay to hear Gambino's music. Although Spotify is still unable to bring real revenue for the artist, the outreach is significant and the revenue growth of the company is 43% for 2017. This shows Gambino adjusting to his target market and forever expanding his horizon among them. Gambino (much like his real-life persona as Donald Glover) is a chameleon. Always willing to change and to find different segments in the market to tap into. Glover has in-fact reported saying he will pursue other projects but no longer as "Childish Gambino." He said after winning his Grammy "I think endings are good because they force things to get better."
We will see what happens with Glover and his music. And as one of the many fans of his music and a member of his target market, I look forward to what is next.