Lover of dogs, Mexican food and traveling the country with her phone in hand,
When Parker Navarro graduated from the University of North Carolina, she was just another former college athlete looking for an opportunity. Today, this lover of dogs, Mexican food and traveling with her phone in hand, is living a dream she didn't know she had. She found that dream two years ago in Austin, Texas, as the marketing coordinator for digital sports media company FloSports.
We caught up with Navarro to find out how she got the job and started living her best life.
SPARTANS INNOVATE: How did you get your job with FloSports?
PARKER NAVARRO: I initially applied to be the Content Marketing Coordinator for MileSplit while I was still in college…didn't have much experience other than running the social media accounts for my sorority and for an applied learning group on campus. I didn't get that job- I made it to the final interview and someone else got it. I really wanted to work at Flo, so I applied to another job, the Referral Marketing Coordinator and ended up getting it! From there, I bounced between being the Referral Marketing Coordinator and a Content Marketing Coordinator. Now, I'm back being a Referral Marketing Coordinator and do Content Marketing/Content on the side.
What made you want to get into the sports media industry?
I didn't particularly want to get into sports, but I saw the post about MileSplit and thought it would be awesome to cover track and field.
What's one thing you had to learn to do on the job?
PSo many things…Photoshop, Final Cut, how to find a voice on social media, how to properly craft an email, and pretty much all of Excel.
What's your day-to-day look like?
I usually get to work, check on all my event partnerships within 2-4 weeks, and make sure all of my social media plans and assets are sent to our event partners.
Then, I will go through and make sure partners are getting links to our live streams up onto their respective websites. When I work on content or content marketing- a typical event coverage is usually getting to the event, getting some clips for social, going live on Facebook and Instagram, live tweeting the event, and then making sure to get interviews of athletes after. If I am filming a show for MileSplit, I will spend the second half of the day reviewing my script for the show.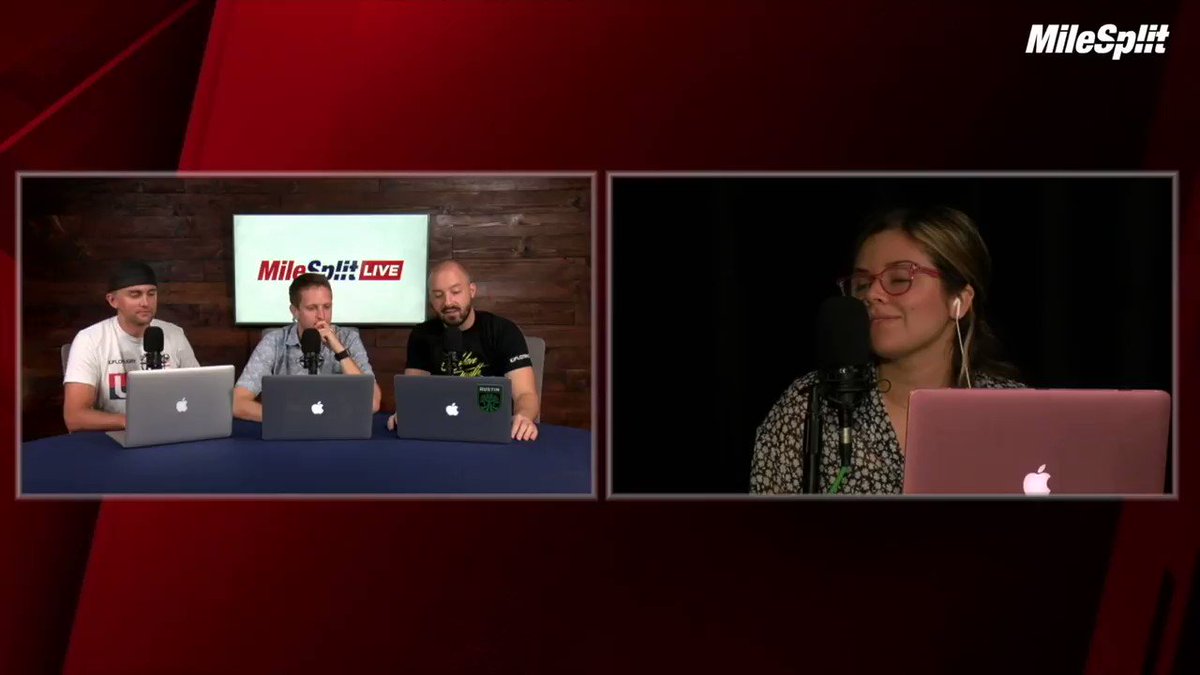 What's your favorite event that you've been able to cover?
NCAA Division II Cross Country Championships because it was my first event.
Any funny stories that have happened to you on the job?
Last weekend at the NCAA Gymnastics Championship I interviewed an Olympian and had no idea because I don't normally cover gymnastics. That was pretty weird and funny that I didn't even know.
What's the hardest part about what you do?
Definitely staying focused in the monotonous parts of the job. Data entry, calculating and tracking stuff is never fun, but it's always worth it when we get the results we want.
How do you think social media has influenced the journalism/media industry? 
It's what drives everything: consumers to product; website traffic; content. So many basic marketing plans are dying out and now everything on social media is considered the "content." It's no longer about the engagement or who sees what, but how it shapes a brand and creates the idea of how people view something.
Social media is the only medium that can make or break how people take what you are trying to say. Print is also dying, as explanations and understanding concepts/brands at a deeper level is dying…it's not always about what is said, but how it's said, and we want immediate gratification that we can relate to simply.