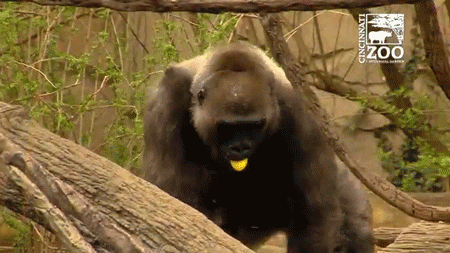 I am not afraid to try new things. I actually hate routines and I somehow get through life having very few of them. I have very few true fears in life other than gorillas, which completely terrify me. When I was jumping out of a plane I actually had the professional I was strapped to wait so I could make sure my hair was out of my face before we jumped because I wanted to see everything.
The only aspect of my life this does not apply to is work. When I am working for someone, I need a detailed description of everything I need to do to feel comfortable. Although I am graduating with a journalism degree, I have only been a journalism major for less than two years. I think this has limited the amount of areas I have education and experience in, because I was not able to take all the classes I wanted to. I did not have room for any video classes, marketing, PR or graphic design.
Talking to Donna  last week really made me realize that I am going to have to learn to wing it a little more. I have been holding back from trying video so much because I do not have any training.  But I should try to get out of my comfort zone more often.
I asked Donna how I should go about becoming a photographer, and I certainly received both a kick in the butt to try something new and some faith that I can get the kind of job I want someday. The story Ladd told about her current photographer gave me hope. He is primarily a photographer, but he also does a lot of other things and I think a job like that would be wonderful.
I think that is what blows my mind about people like Ladd who start businesses over and over with no handbook. How in the world do they know what to do? Listening to her story really made me understand the scary parts of starting a business. I do not think it is something I am incapable of, I just need to educate myself more broadly.
I think Ladd would be happy to know that I am taking her advice and making a list of books on the subject that I plan on reading. I am going to learn how to use my resources now so someday if I decide to start a business I will know where to look and have an idea where to start.